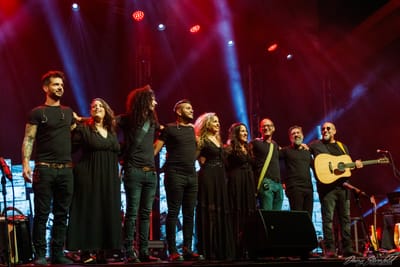 Echoes established in 2003 and was created for the sole purpose to recreate the Pink Floyd sound without any interpretations to the source. The band's uniqueness is the uncompromising attention to details in sound, as well as in the experience of watching the show, that includes a lighting production and a big round screen to project photos and videos that correspond with the songs, to give the crowd the complete Pink Floyd experience, since the "real deal" is no longer accessible.
Some of the shows are dedicated to different albums, which are played in full through half of the show such as "the Dark Side of the Moon", "Wish You Were Here", "Animals" and "The Wall". "Echoes" has "sold out" large halls that were filled with people of all ages who refuse to let this amazing band become just a part of history, and, according to them, are happy to be able to touch the songs and albums as originally as possible, which is exactly what they get and why they keep coming back for more.
In the shows you will find all of the Pink Floyd classics like "Comfortably Numb", "Breathe", "Another Brick In the Wall" and "Wish You Were Here", the more complexes creations like "Echoes", "Shine On You Crazy Diamond" and "Dogs", and the band's earlier creations like "Arnold Layne", "Astronomy Domine" and more.